How to start?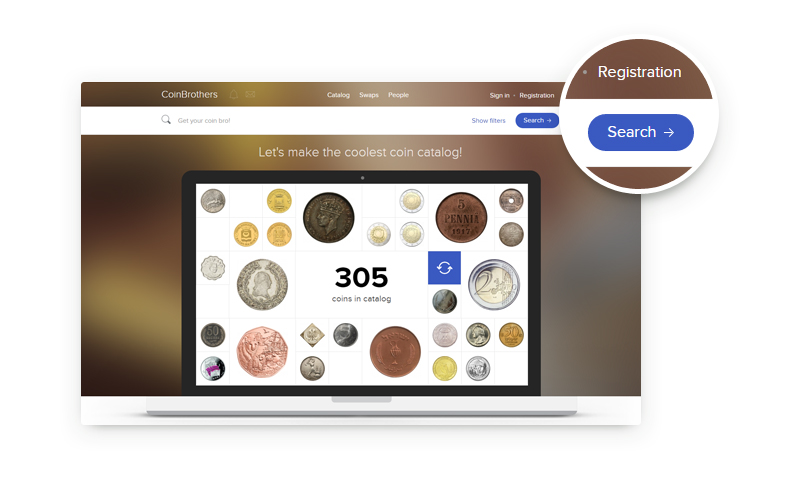 After you register, you will be able to add coins to the catalog (see How to add coin to the catalog?) and edit coins (link 'Edit this coin' at the right top).
Tips & Tricks

Each page of series coin (for example, American dollar from Presidential $1 Coin Program) has a 'Subscribe series' link under the title. As soon as you subscribe, CoinBrothers will inform you, if the coins you are interested in become available.
How to register?
Registration is the creation of your personal account. It is necessary if you want to communicate, swap coins, create your personal collection, exchange and wishlist, subscribe to supplements in coins series, add coins to the catalog and edit them, etc. Only registered users can enjoy the full package of CoinBrothers services.
Click on Registration link in the upper right corner to register.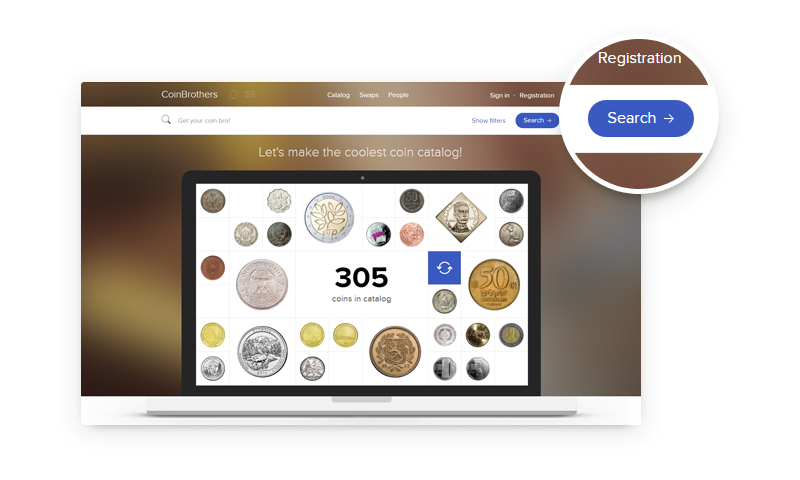 There are three ways to register:
fill the form
sign in with Facebook
sign in with Google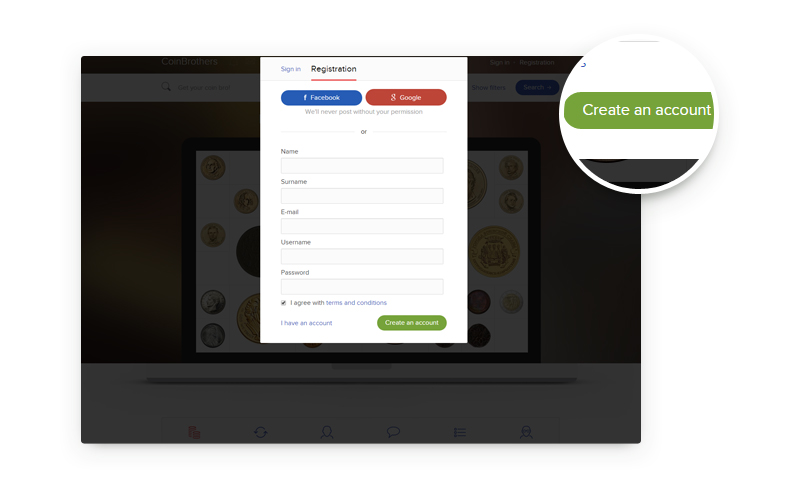 If you fill the form to create an account, you will be able to sign in if you enter your e-mail and password you stated when you registered. If you use Facebook or Google, you will need to enter your e-mail and password you use to sign in Facebook and Google accordingly.
Tips & Tricks

Register by filling the form, and if you have any Facebook and Google accounts, then link them in the Settings section. Then you will be able to sign in CoinBrothers without a second thought on how exactly you registered.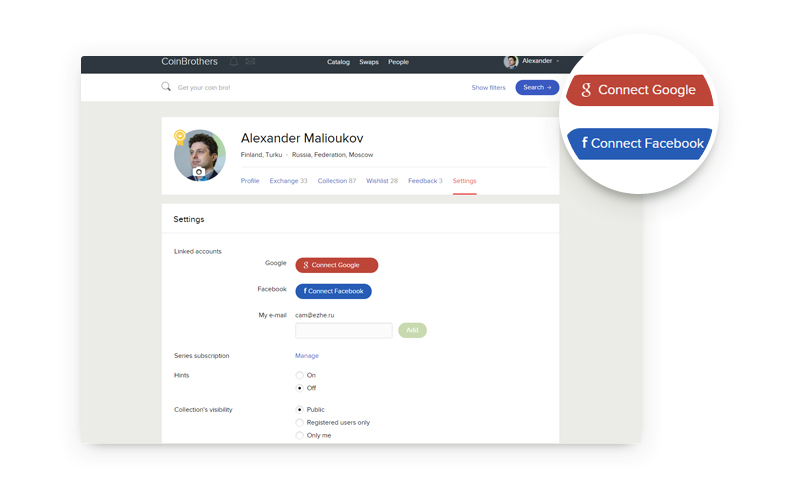 How to fill my profile?
Profile is your card on CoinBrothers where you can state the following information: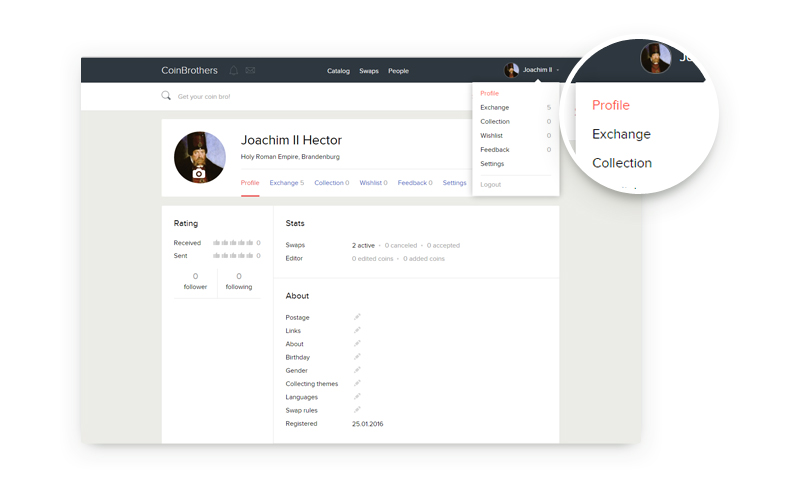 Profile picture
We strongly recommend you to use your recent photo where it is possible to see your face.
City and country of your residence
You can state several places, if you move around a lot. This field will help people from the same district and coin collectors, interested in the coins of your region, find you in the People section.
Postage
How you prefer to send coins
Links
Links to your websites and accounts in social networks.
About
Share some information about yourself. How long do you collect coins? Where did you study? What countries did you live in for a long time? Do you have any pets? What do you do with your free time, besides collecting?
Collecting themes
What type of coins do you like? This field will help people with same interests find you in the People section.
Swap rules
For example, you swap 1x1 (one-to-one), or you set a certain price for each coin, based on the prices from the particular coins catalog, or you swap with people from your district only, or you insist on a certain quantity of coins or their total price.
Tips & Tricks

Filled profile with a good profile picture let people see a real, nice person, with whom it would be interesting to communicate, swap and make friends. It makes people want to send him or her holiday greetings and add a pleasant bonus to the coins parcel.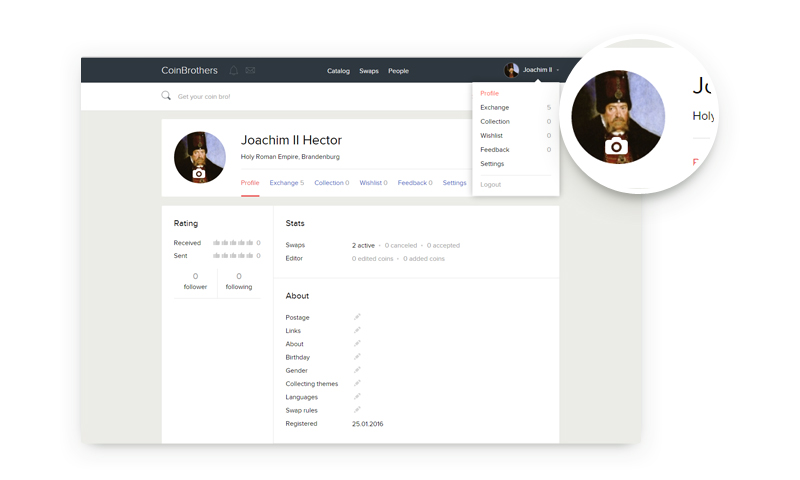 How to find a swap partner?
You can find a swap partner in the People or in the Catalog sections.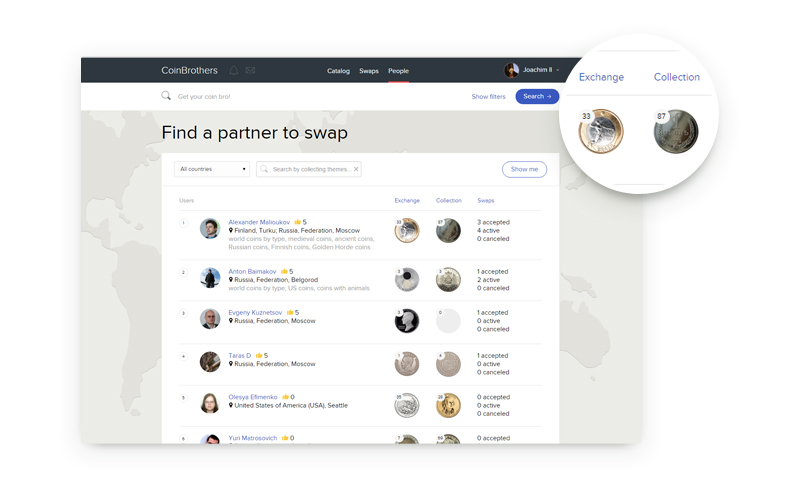 The first section helps you to find interesting people for a swap. You can search for a person from a certain country or people with similar interests by using various filters.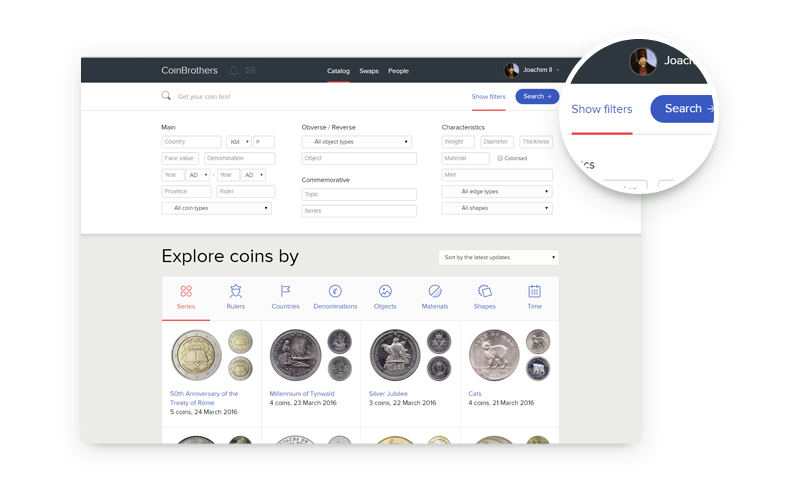 The second section helps you to find coins you want to get. You can choose a certain coin from the catalog or with the help of the search field. Click 'Swap' button on a coin's page. A pop up will show a list of collectors who are ready to swap this coin.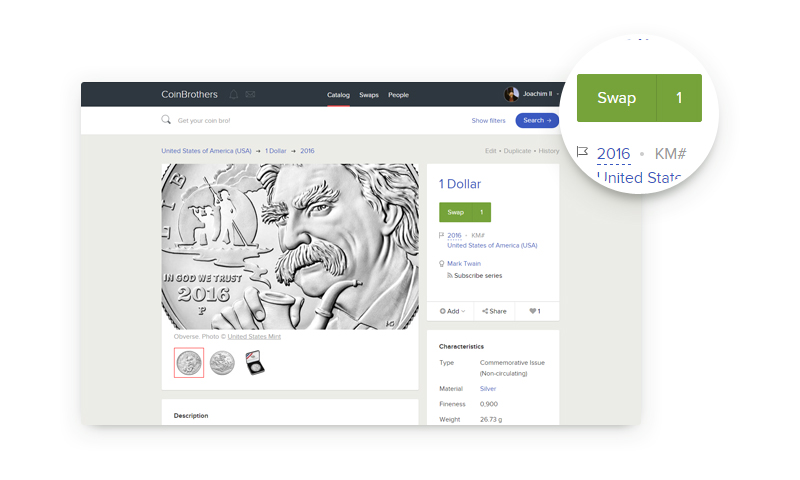 When you get to the profile of the person you need, carefully look through it. If everything seems right, it means that you found your potential swap partner. Feel safe to click 'Start a swap' button.
Tips & Tricks

If nobody offers a swap, you can add a coin to the wishlist (heart-shaped icon) CoinBrothers will notify you as soon as the coin is available for a swap.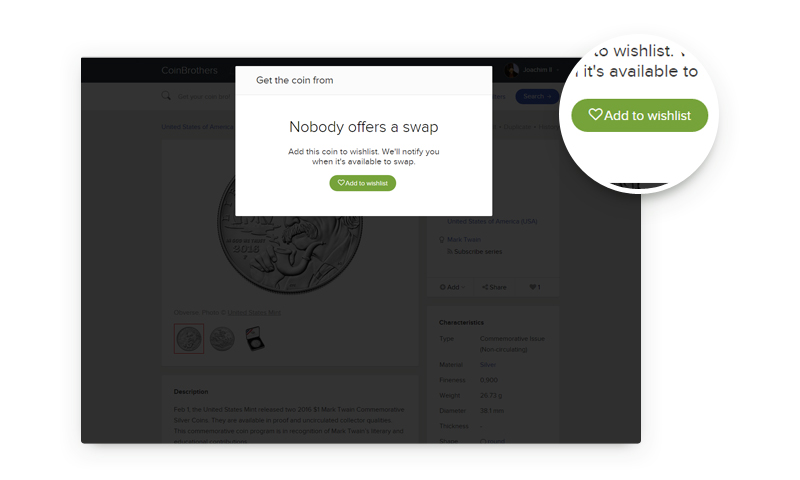 How to start a swap?
Find your potential swap partner (see How to find a swap partner?)

Choose coins

After you clicked 'Start a swap' button, you get into your partner's exchange. There you can choose all the coins you want to get. If the quality of coins is important to you, pay attention to the condition of the coin described on its page. (see How to grade coins?)

You can find operating buttons in the bottom of the screen. The bar also shows how many coins you chose. After you chose the coins, click 'Start a swap' button. Congratulations, you have successfully started a swap by sending an offer to your partner!

Greet your partner

You are now at the swap page. Messenger is on the right. Write a few sentences in the messenger. For example, "Hello! Would you like to swap coins?" It is nice to start a conversation with a simple and polite greeting.
Your partner got your offer and greeting message. As soon as he or she responds, CoinBrothers will notify you. You can monitor the current status of your swaps in the Swaps section.
Tips & Tricks

It is easy to work with exchange lists of other users with the help of filters. The first filter will separate the coins of a certain country. The second one will filter the coins you have in your wishlist (marked with a heart-shaped icon) or the coins you do not have in your collection (by issue years or by types)
How to proceed with a swap?
The swap process can be divided into three parts:
Initiating.
You can find partners yourself and send them an offer (see How to start a swap?), or somebody can get interested with your exchange and offer you a swap.
The actual swap.
Actions that concern physical transfer of the coins (see What to do when my swap is accepted?).
The swap is carried out on a separate page, where you can get from the Swaps section, and also from letters and notifications, relating to the swap. This page includes 5 logic blocks:
Information block (at the left top)

There you can see the last swap circuit and a hint on your next step. For example, wait for the partner's respond.

Coins you get (right under the information block)

Here you decide what coins you will get through the swap. You can add coins from your partner's exchange by clicking the 'Add coins' button. When you chose the coins you need, click the 'Save changes' button in the bottom. You will be sent back to the 'Coins you get' block and your partner will receive a new swap offer.

You can exclude some of the coins from the swap (in case you don't need a certain coin anymore) or return coins to the swap (if you changed your mind). You can do this with switch buttons. If you want more than one coin of one type, change the quantity (the qty index shows the available maximum).

Coins you give (right under the "Coins you get" block)

Here you decide what coins you will give in the swap. You can agree with your partner or decline some of the coins during trade process with the help of switch buttons.

Control field (bar in the bottom of the screen)

In the field on the left there is a balance of given and received coins (only those agreed by both parties). On the right there are operating buttons for swap managing. You can decline offers, sent counter-offers (saving the changes), change your decision and, finally, accept the swap.

Messenger (minimizing filed on the right)

Instant messaging system allows you to communicate during the swap process. Speak in favor of your decisions, bargain, send pictures and describe the advantages and disadvantages of your coins, discuss possible nuances of the swap.
When both partners agreed on the swap, the operating buttons in the bottom disappear. But then you can rate and write a feedback on communication with your partner.
Tips & Tricks

After both partners accepted the swap, two supportive buttons appear:

'Add to collection' – this button adds exchanged coins to the collection
'Remove from exchange' this button deletes from your exchange those coins which your swap partner received from you

After you clicked any of the buttons, you can make necessary selection of coins. For example, in case only some of the exchanged coins get into your collection.
How to grade coins?
The condition of the coin is one of the most important criterion that defines its collector value. Coin in good condition often has a higher collector value than the same coin in a worse condition.
When it is not possible to show a picture of a coin or demonstrate it in the real life, the common grading scale of the condition can be really useful. CoinBrothers uses shortenings, common in the English coin grading scale.
FDC - Fleur-de-coin. Mint state, unused, flawless, without any wear, scratches or marks.
UNC - Uncirculated. A coin in new condition as issued by the mint, but owing to modern mass-production methods of manufacture, not necessarily perfect.
XF - Extremely Fine. A coin that shows little sign of having been in circulation, but which may exhibit slight surface marks on very close inspection.
VF - Very Fine. Only slight traces of wear on the raised surface; a coin that has had only slight circulation.
F - Fine. Considerable signs of wear on the raised surface, or design weak through faulty striking.
VG - Very Good. A coin that is worn, but which has the inscriptions and main features of the design still distinguishable, or a piece that is very weakly struck.
G - Good. A very worn coin, of no value as a collector's piece unless extremely rare.
Also, many countries issue coins of improved quality using Proof minting technology.
Tips & Tricks

When you grade your coins condition, it is better to be a little pessimistic. This approach will help you to avoid possible misunderstanding between you and your swap partner.
What to do when my swap is accepted?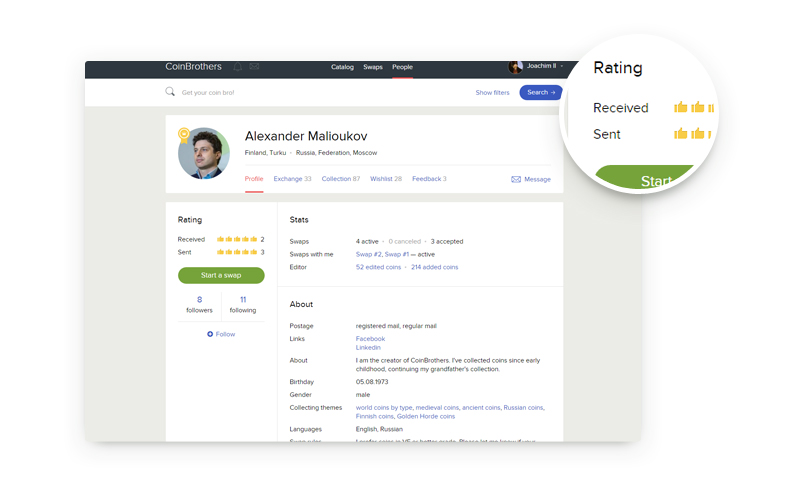 When exchanging, there are always the risks of not getting promised coins.
There are two types of risks:
An unreliable exchange partner

Issues related to postage
In order to minimize the risks associated with an unreliable partner:
Check the partner's name and address in search engines in case they are on black lists.

Take a look at his/her profile, how many exchanges he/she has been a part of and what ratings were given for these exchanges.

Pay attention to the communication process. Are there any language problems or strange behavior? Are there strange pauses in dialogue?
If your partner was on a black list, is just starting out in exchanges, has already managed to get a few negative reviews, or if communication with your partner makes you uncomfortable, ask him/her to send you his/her coin(s) first. You will not only reduce the risks associated with your partner's unreliability, but you will also be able to practice checking how his/her rating of a coin's condition coincides with yours.
To reduce the risks associated with the mail system, use the following strategy:
Wrap up coins in plastic or paper (to avoid getting glue from the tape on the coins).

Use tape to affix them onto a piece of cardboard.

(Optional) Wrap cardboard with household aluminum foil (to avoid x-ray scans).

Put the result into a bubbled envelope (to avoid tampering).

Add a phone number. This can be useful if the postmen cannot read the address in your handwriting.

Send with registered mail (to decrease the chances of losing the package in the mail). Registered mail does not mean a service that will deliver the coins the next day (UPS, DHL etc.) but rather one that gives you a tracking number.

Finally, it is a good idea to not be too descriptive when you are required to list the contents of your package on a customs form. For example, instead of writing "coins" on the customs form, it is quite acceptable to write "hobby supplies".
In some countries, registered letters are quite expensive. In others, the shipment of coins is prohibited by law, up to criminal prosecution. In such cases, we advise you to exchange coins with numismatists from your country or city using real-life communication.
There is always a chance that the mail service will lose the package containing your coins. Try to give your partner moral support if your package is delayed. It is considered good form to somehow compensate if your partner does not receive the coins. We'd like to add that you can request compensation from the mail service if your registered letter is lost.
Our final tip is to not send very expensive or rare coins. Use friends or acquaintances to transfer your package hand-to-hand or insure your parcel with the appropriate means at the post office.
How to deal with followers and following?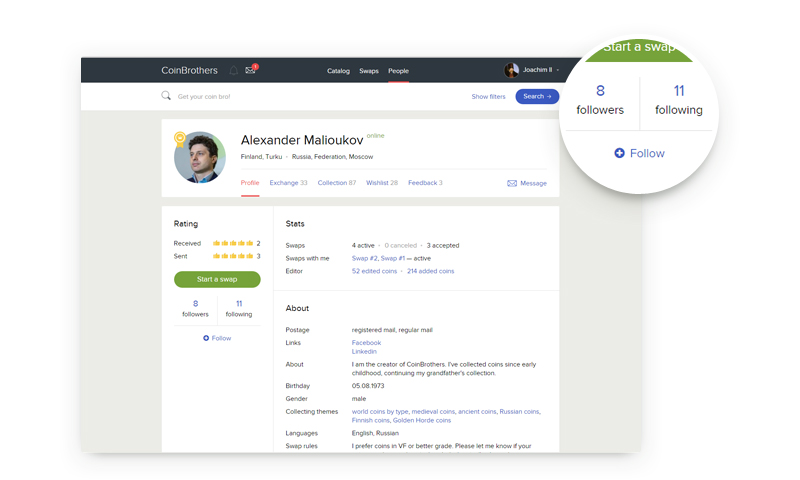 CoinBrothers has a special service that allows users to follow certain numismatists. In order to do that, you need to click the Follow link, which you can find in a numismatist's profile, a bit lower than the green 'Start a swap' button. After that, your Following weekly mailout will include information on considerable changes in his or her exchange and shop.
Each user profile contains followers and followings statistics.
Tips & Tricks

There are at least two reasons to follow a numismatist:

he or she has coins in the exchange you are interested in, but the quantity is not enough for a proper swap.
you really enjoyed swapping with a person, but there is nothing more to exchange.
How to add coin to the catalog?
N.B! Only registered users can add coins to the catalog.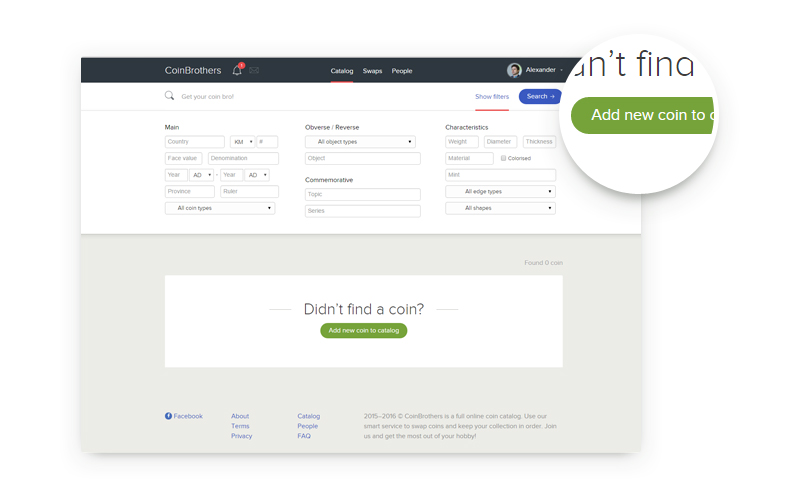 Let's say you want to offer a coin for a swap. You make a search query and find out that there is no such coin in the catalog. You weight, gauge and photograph a coin. Then apart the technical details, you write an exciting story about the coin's origin. Well, of course we don't live in a perfect world, so most likely you take some information on the coin from the Internet. In order to do that, you will need to take the following steps:
Step one: Search for information
Find coin statistics (size, weight, mintage, etc.) in electronic or paper catalogs.
Find additional information. For example, data on modern coins are often placed on national central banks websites. One can find important information on old coins on thematic forums and websites.

Search for high-quality pictures.

Find coin pictures in the Internet. Use search systems (pictures section) and useful thematic websites - national central banks websites, online catalogs, auctions, services and etc.
The most proper/best pictures have maximum size (no less than 400х400 pixels), high quality (sharp color picture), white or transparent background.
Step two: Prepare a picture
Copyrights

You must not borrow pictures without a permission and a source link.
Carefully look through the terms of use on the website that has a proper picture. Usually, the owners just ask you to state a source and give a link to the website. However, sometimes they ask you to contact them for the permission.
If they ask you to contact them, send them a polite query. Download the picture only after you received the permission.

Edit your picture in a graphic editor.

Delete all excessive details. The picture must contain the image of a coin only. No copyrights, texts, frames, fingers or holders. Only the image of coin and white background.
Separate obverse and reverse. In the end, you should have two pictures of the same size.
Step three: Uploading data
The process is a bit monotonous, but there is nothing difficult about it. Interface is friendly, data is standard. There are a few tips below: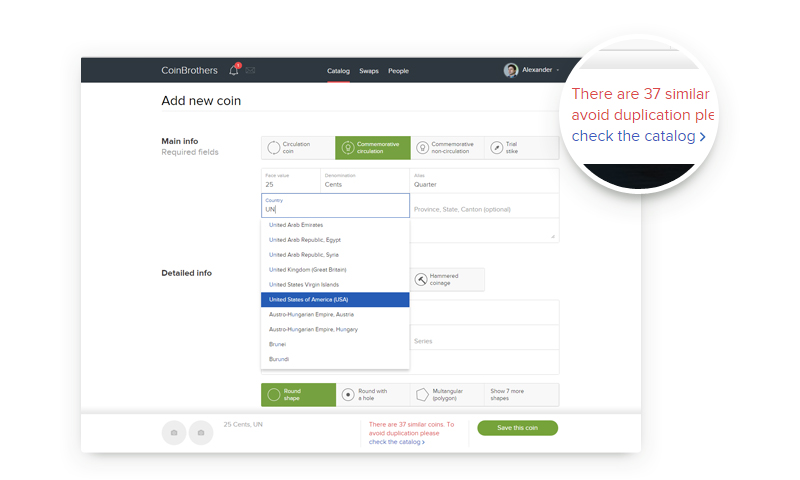 Find a similar coin and see how it is described by clicking 'Edit this coin' button in the top right corner.
Tell all the interesting facts about this coin in the Coin description. If it is a commemorative coin, add some information on a person or event, in which honor it was minted.
For bi- and tri-metallic coins add information on metals of its center and rings. State fineness for precious metal coins.

Type of Object and Object fields - is a kind of tagging, which allows to single out coins with similar objects in the catalog. That is why it is better to give common names. Not a polar bear, but just a bear.

You should place the following information on obverse and reverse in the Description section:

Formal description of what is depicted on the coin. For example, Number 5, text, oak branch and mint mark.
If the text on the coin is not in English, give a translation.
Information on a mint, the head of the mint, designer, especially if the coin has their initials and marks.
Description of the object, depicted on the coin. For example, an ordinary Brazil coin, issued in honor of central bank anniversary, will become catchy, after you tell that: The doubloon of the Brazilian Empire was a source inspiration for the architectural design of the main building of the Central Bank. The architect modified the Cross of Christ, which is engraved on that coin, making the edges of its arms straighter – this originated the building outline.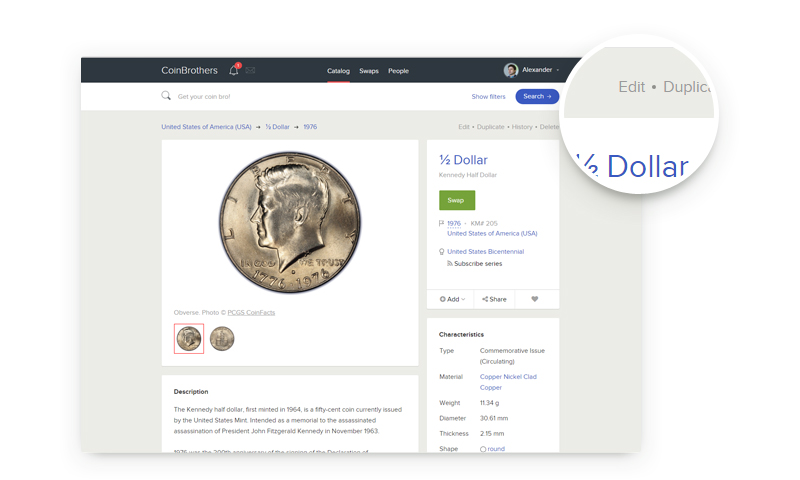 After you saved your coin description, it is sent for moderation. You can edit it, add to your exchange or collection, but it won't get to the catalog, until everything is checked and approved by a moderator.
Tips & Tricks

If you are an expert, please, share your knowledge. If you are a numismatist, spare neither trouble nor time to find full information on the coin. CoinBrothers differs from other online and paper catalogs because of the high resolutions images and exciting history behind each coin in the catalog.
How to add coins to my exchange, collection or wishlist?
When you add coins to your personal lists (it can be your exchange, collection or wishlist) on a physical level it means that there will be connection between a coin in the catalog and your account. Personal lists can be found in your profile. You can go there by clicking a drop-down menu in the upper right corner (there you will see your name and profile picture).
In order to add a coin to any of your personal lists, you need to find it in the catalog. You can do it with the help of search query. If you cannot find the coin you wanted, you need to add it to the catalog (see How to add coin to the catalog?).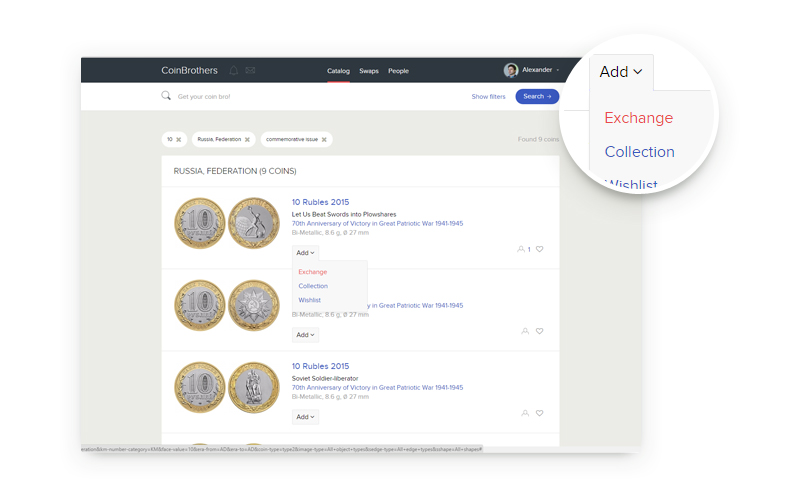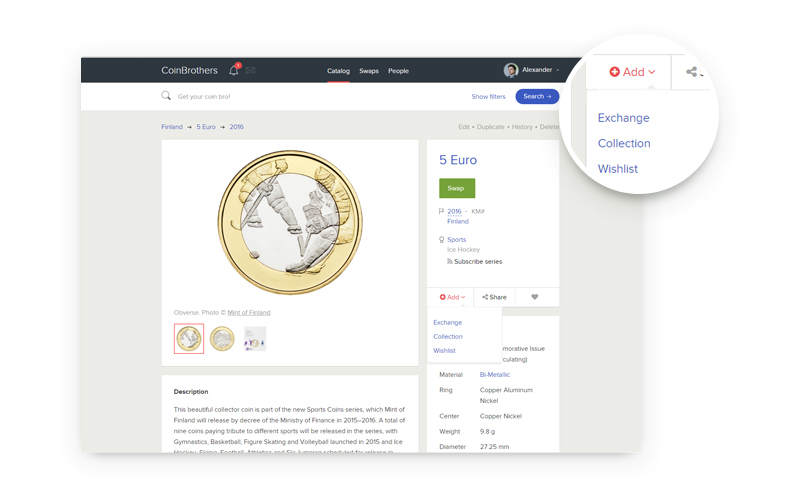 If you found the coin, you can add it to your personal list directly from search results. In order to do this just click the 'Add' drop-down menu. Or you can do this from the coin page. Switch to the list you need - exchange or collection. Choose by the horizontal the year of issue you need (pay attention to variations, Proof, mints, etc.). Choose by the vertical the coin condition you need (see How to grade coins?) and write in the field a number of the coins you have. In fact, that's all. A coin is either in your exchange or in your collection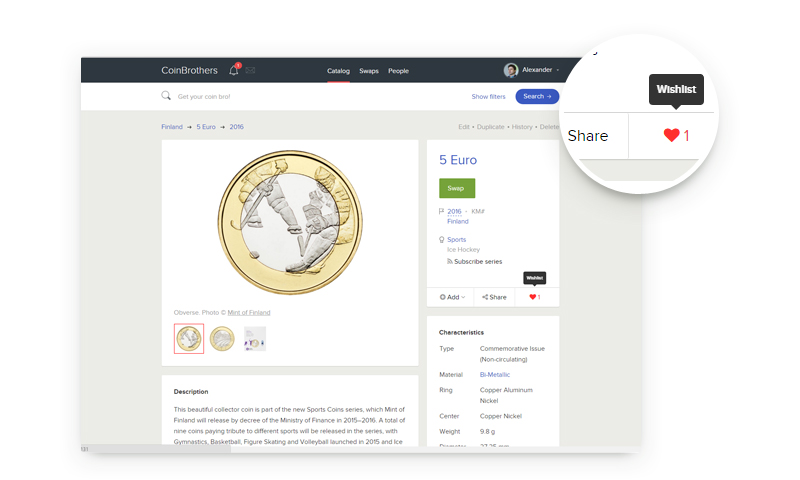 Heart-shaped icons on the right are responsible for wishlist. You can add a whole coin issue to the wishlist, or choose a specific year. While a coin is in your wishlist, you get notification if somebody offers it for a swap (see How to handle notifications and messages?)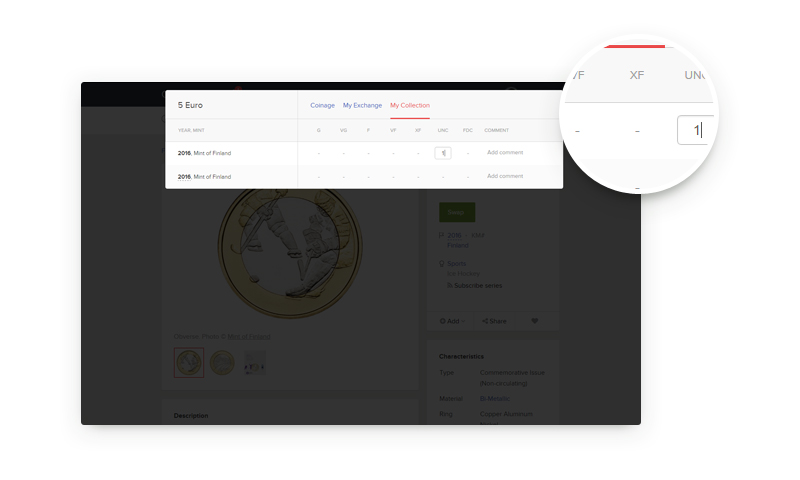 Tips & Tricks

When you received the exchanged coins, click 'Add coins' button. Before you add coins to your collection, delete heart-shaped icons if you don't need these coins in your wishlist anymore.